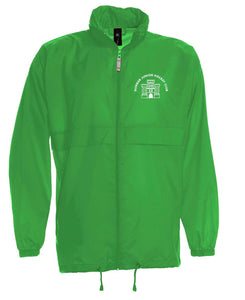 Dunbar Junior Hockey club is a hockey club based at Hallhill healthy living centre you can find out more at their facebook page 
This Kelly green windbreaker jacket is ideal for hockey player. The windbreaker. Full zip opening with zip puller in contrasted colour. Hood concealed inside the collar. Fold-away jacket (K-Way® system) in pocket with double slider zip. Open hem with drawcord adjustment. This item is embroidery with logo on left chest.
Sizing (to fit chest) as follows:
3/4 28" 5/6 30" 7/8 32" 9/11 34" 12/14 36"
S 36/38" M 38/40" L 41/42" XL 43/44" 2XL 45/47"
PLEASE NOTE:
If you are collecting select 'pick up' at checkout and we will contact once item is ready this can be around 7 days. If any product is out of stock we will notify you as soon as possible.

This item is personalised to club and printed to order and therefore cannot be returned/exchanged so please ensure info and sizing is correct before ordering..