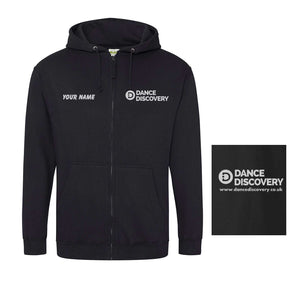 Dance discovery is a dance school based on Spott Road Dunbar and you can find out more on their website http://dancediscovery.co.uk/
This black zipped hoodie is ideal for dancers with the zip making it perfect for when going to a show and have make up and hair done. The zippie features logo on left chest and back with your name on right chest if required.

Sizing (to fit chest) as follows:
3/4 26" 5/6 28" 7/8 30" 9/11 32" 12/13 34"
S 36" M 40" L 44" XL 48" 2XL 52" 3XL 56" 4XL* 60" 
PLEASE NOTE:
To Personalise please add name in the notes section at checkout.
If you are collecting select 'pick up' at checkout and we will contact once item is ready this can be around 7 days. If any product is out of stock we will notify you as soon as possible.
This item is personalised to club and printed to order and therefore cannot be returned/exchanged so please ensure info and sizing is correct before ordering.