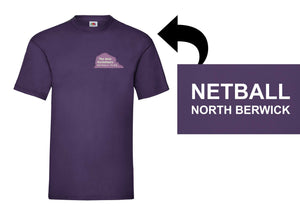 Bass Rocketeers are a a netball club based in North Berwick you can find out more here
These cotton t-shirts are standard part of the team kit and features logo embroidered left chest and Netball North Berwick printed on rear. 
Sizing (to fit chest) as follows:
3/4 26" 5/6 28" 7/8 30" 9/11 32" 12/13 34"
S 38" M 42" L 44" XL 48" 2XL 52" 
PLEASE NOTE:
If you are collecting select 'pick up' at checkout and we will contact once item is ready this can be around 7 days. If any product is out of stock we will notify you as soon as possible.
This item is personalised to club and printed to order and therefore cannot be returned/exchanged so please ensure info and sizing is correct before ordering.