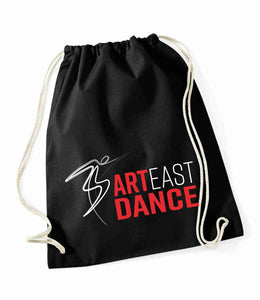 Art East Dance is Dance studio based in East Linton, ARTEASTDANCE strives to create a warm, nurturing environment to maximise our student's full potential and promote confidence and joy in dancing. You can find out more here https://arteastdance.co.uk/

This handy gym sac is ideal for taking kit to and from class. Lightweight and easy to fold up this makes the perfect everyday essential.

 Made from cotton.

PLEASE NOTE:
To Personalise please add name in the notes section at checkout.
If you are collecting select 'pick up' at checkout and we will contact once item is ready this can be around 7 days. If any product is out of stock we will notify you as soon as possible.
This item is personalised to club and printed to order and therefore cannot be returned/exchanged so please ensure info and sizing is correct before ordering.